Rod Stewart by Jeff Williams (Premium Canvas Prints)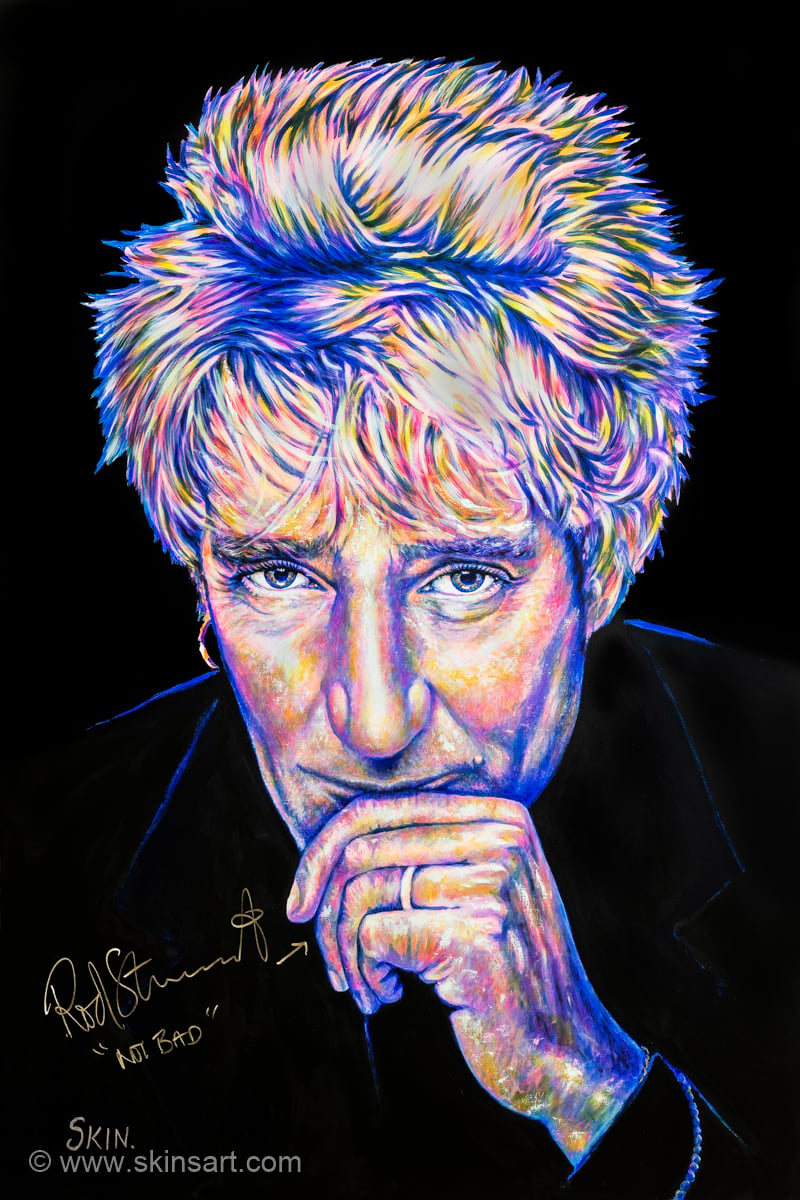 Use Code 'BOWIE' at checkout for 25% Off!
"Do Ya Think I'm Sexy?"
Rod is another rock icon with a spectacular CV. Although he has progressed from raunchy playboy pop star into a super classy performer, he still has the ladies falling at his feet.
I painted Rod using a mixture of UV acrylic paint which creates a wonderful 3D floating off the canvas towards you effect
Prints starting at just £200!
Quality Canvas Prints Available-
24" x 36" - £1,000
32" x 48" - £1,500
38" x 57" - £2,500
Original Artwork: SOLD
Quality --
First step. The original painting is photographed to the highest possible resolution. Using only the very best materials we produce a museum quality canvas.
Handmade --
Our stunning reproductions are 100% handmade every day. Real people with real experience carefully check every single detail.
Premium Prints --
We only print with the highest quality state of the art, leading 12 colour process machines. This gives you stunning details and brilliant colours unmatched by older machines. Our prints are also guaranteed with a 200 year UV life span.
Premium Frames --
Using carefully selected solid pine wood each frame is constructed and checked in house. We have researched the best method for extra strength and durability and assure you this is an outstanding product!
Premium Canvas --
We only use 100% cotton canvas with a thickness of 340GSM. We do not use cheap synthetic fibre alternatives and we know you will be blown away with the clarity of image and quality of its production.
Love --
Whether it's a gift or a purchase for yourself we know how important it is for us to get this spot on. We love what we do and that means your canvas will be perfect.
Delivery --
We offer tracked courier service and delivery is FREE for mainland UK. It is extremely rare for an item to get damaged but if this happened we would offer an immediate replacement at no cost to the customer.
Timescale --
As soon as your order is placed production will begin the next working day. Typically, orders are shipped within 2-4 business days and you will be informed of all the couriers contact details.
Use our Contact Page for all serious Inquiries.
The Artists website www.skinsart.com or www.rclifestyle.co.uk
Contact via email - [email protected]
Instagram - @artbyskin or @davidbowiereal