David Bowie 'Low' - Framed Sculpture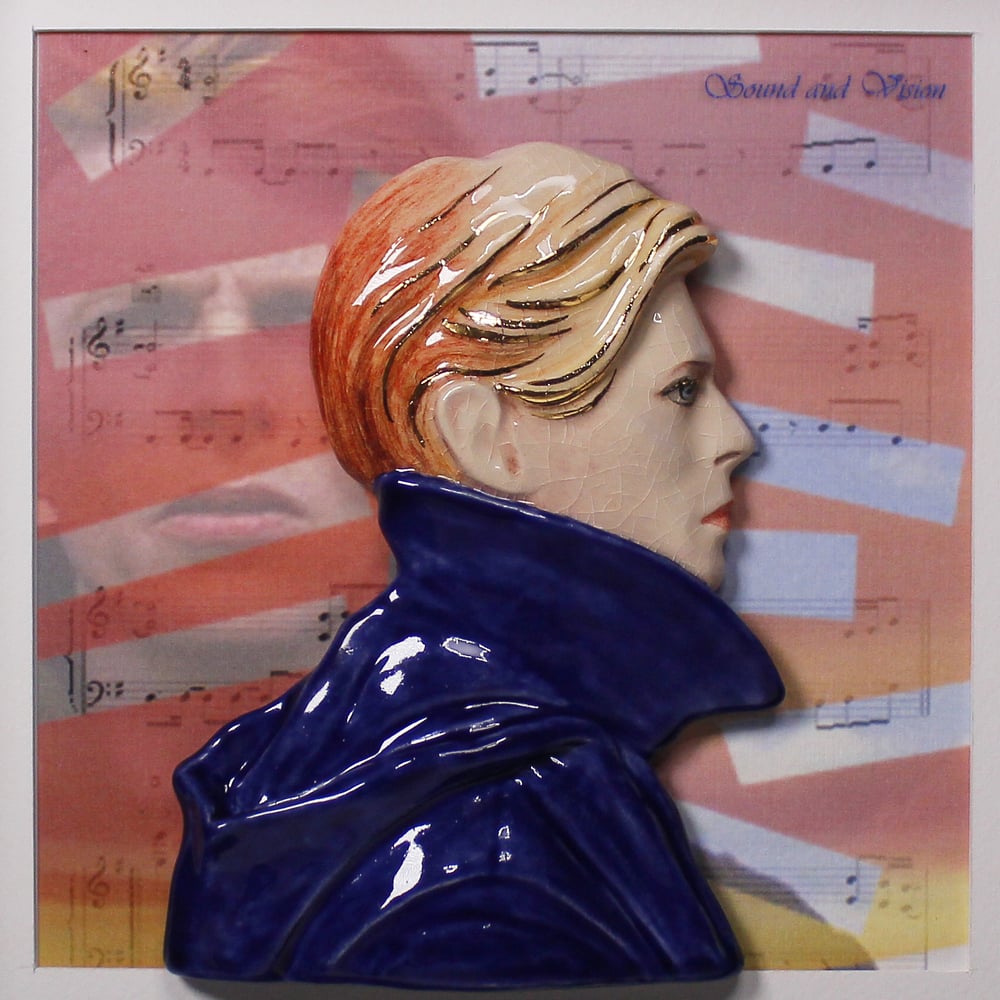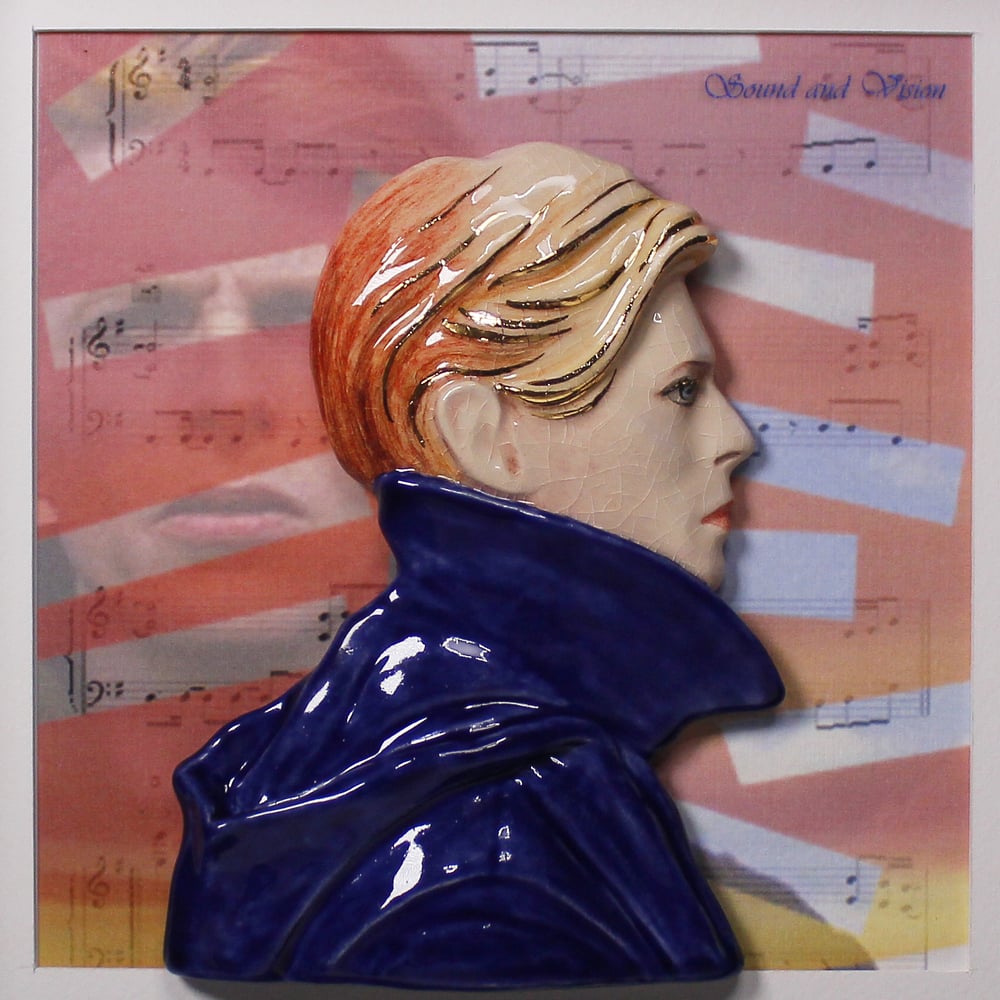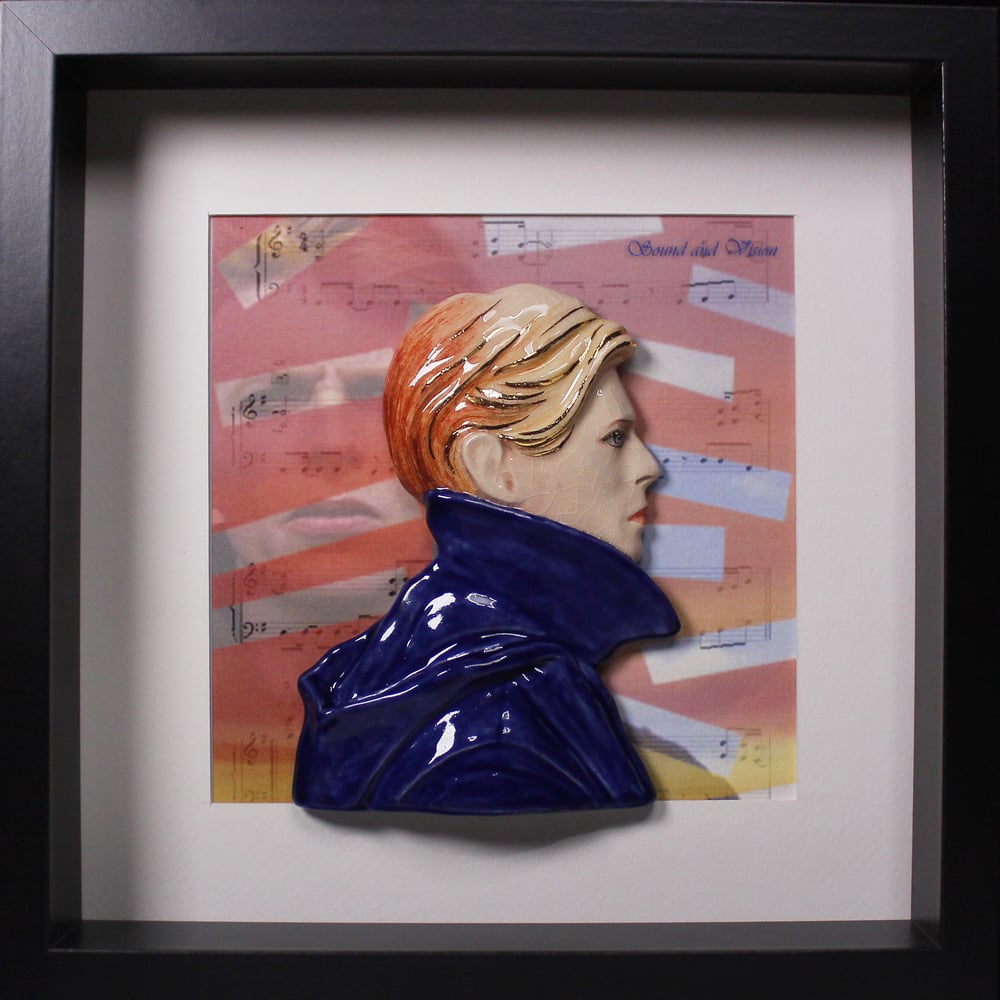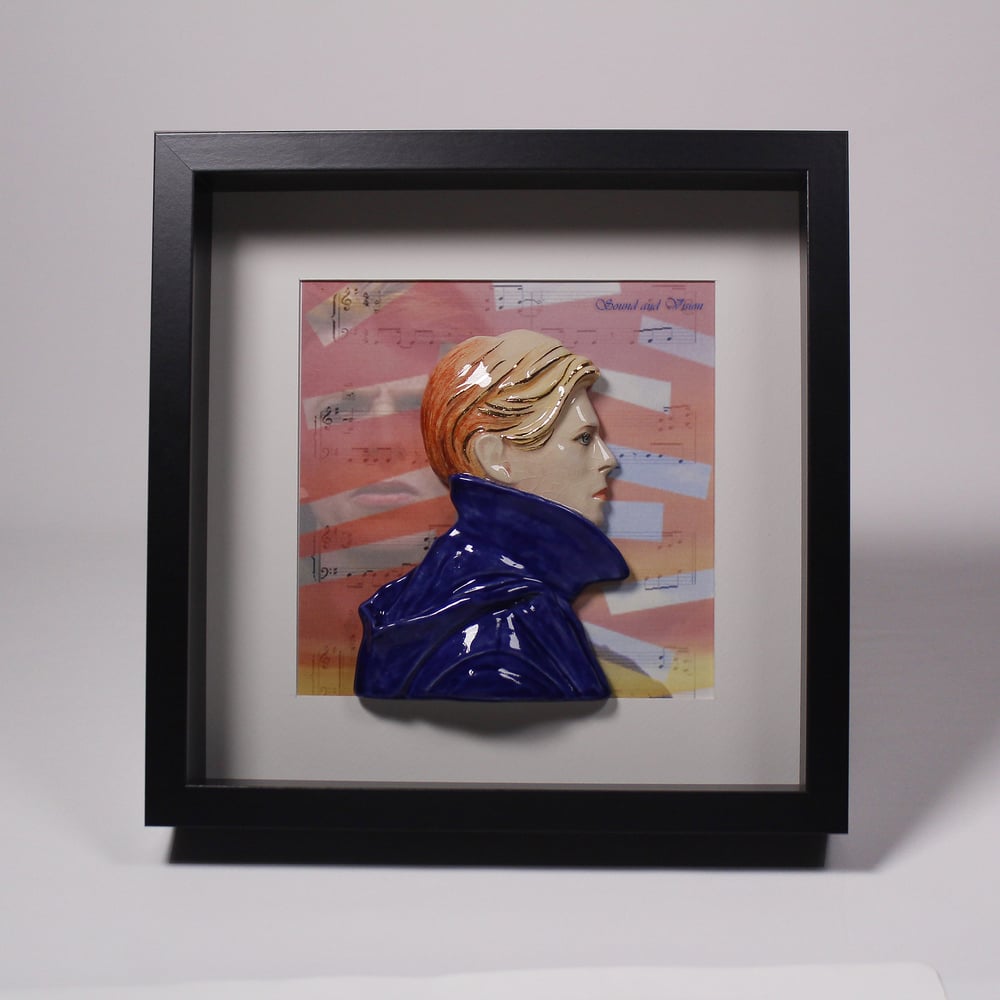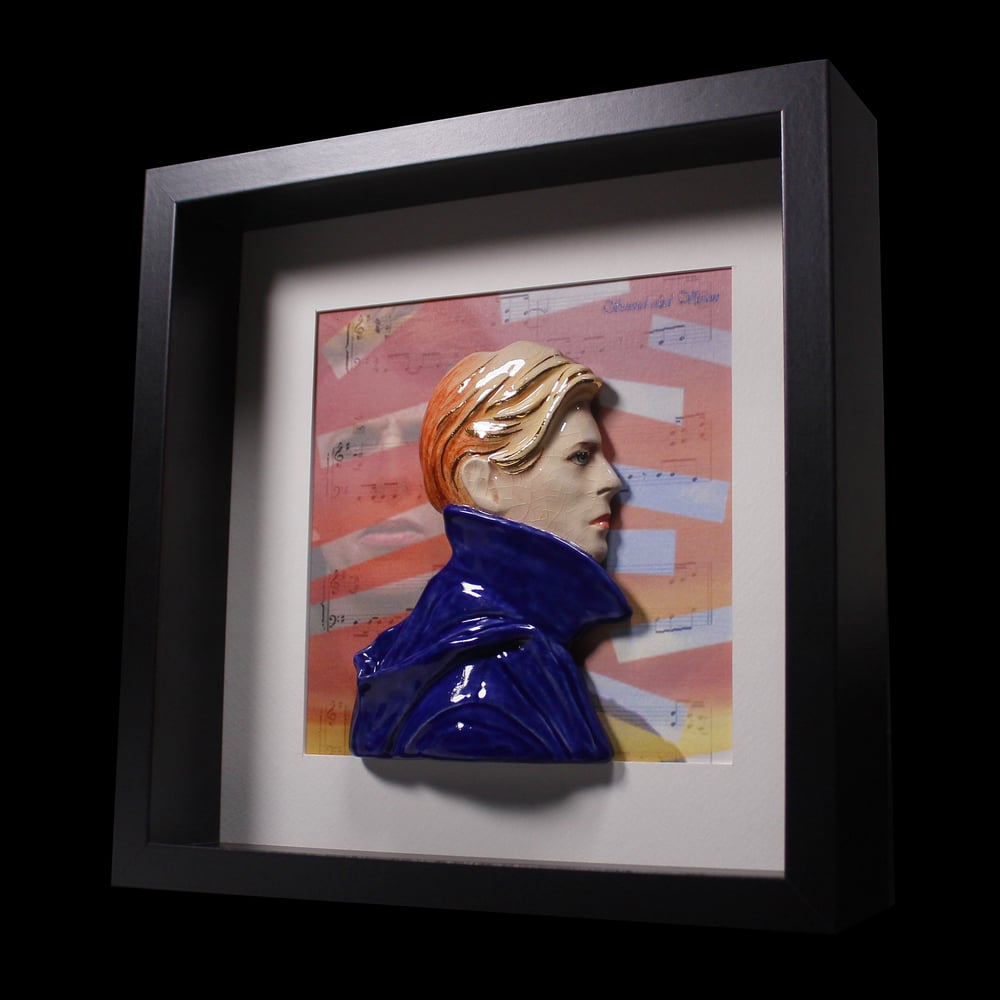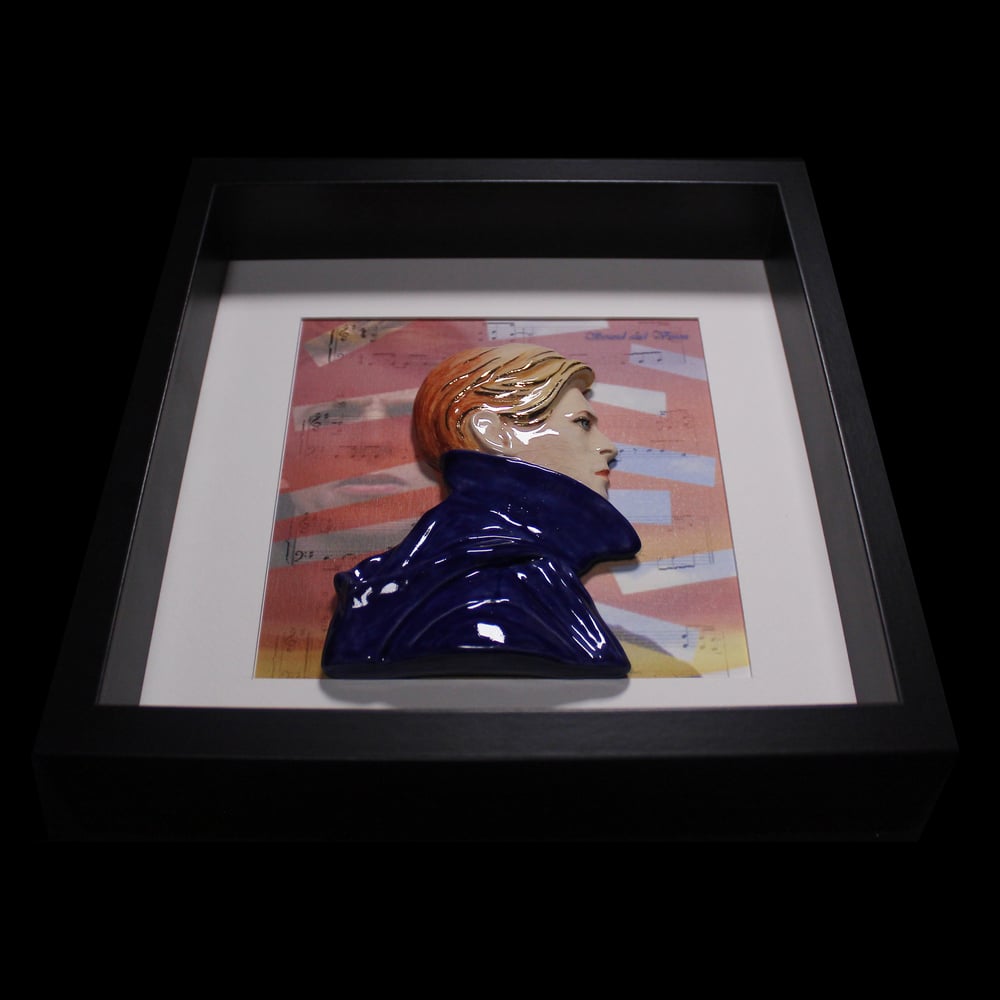 A framed sculpture of David Bowie which sits upon a custom made background.
You have seen Marias Masks, Full heads, Panels and Bust sculptures but she wanted to try something new with these smaller, more experimental sculptures. She was able to create a unique background to suit each music icon and work with more than just clay. Each piece is presented in a small and subtle black frame which can be displayed on your wall or stood on a table top, alone or as a set.
The sculpture has had a total of 3 fires, with Gold luster paint added to the hair. This ceramic sculpture has a gloss finish and is inspired by the David Bowie 'Low' album cover and 'The Man Who Fell To Earth' Bowie character Thomas Jerome Newton.
The background has a 'Sound and Vision' music sheet interlocked with an image from the movie TMWFTE, this collage with orange/pink colours to creates a sunset effect, a Bowie themed graphic backing panel for the sculpture to rest upon.
The is a new experimental piece for Maria capturing David Bowies side profile, the 3D sculpture emerges out from the backing panel. A truly unique concept which I have not seen elsewhere.
This is part of a series of framed sculptures depicting Freddie Mercury, David Bowie and Prince. These are smaller sculptures which can be bought as part of a set if you want to own all pieces.
Ready to hang to the wall or use the stand on the back to display on a table.
Dimensions of Side Profile Sculpture - H 17 x W 17 cm
(Framed) H 27 x W 27 x D 6 cm
Weight - 1.1kg
If sold we can custom make another so just get in contact with us!
Pre-order for a Deposit of just £50! Contact [email protected]
Each Sculpture has a wooden box, bubble wrap/polystyrene and is carefully packed to send Worldwide by courier.
The Sculpture includes a certificate signed by the artist. Some sculptures have a certificate signed from Italian Ministry of Cultural Heritage and Export Office.
WORLDWIDE SHIPPING! Insured with Full Tracking information and updates including images of the item packed ready for shipment!
Shipping Costs-
Italy- £13
Europe- £21
United Kingdom - £23
United States - £49
Rest Of World- £65
If you have any questions about possible customs charges feel free to email - [email protected]
LIMITED OFFER - Receive £10 Back!
Since leaving the EU all UK orders are subject to Duty charges, if these are applied to your Sculpture send me an email and I will pay £10 of your fee.
DM @davidbowiereal on Instagram or use the 'Contact' page for more information!