David Bowie- Diego Rivera Mural 'Signed + Limited Edition Print'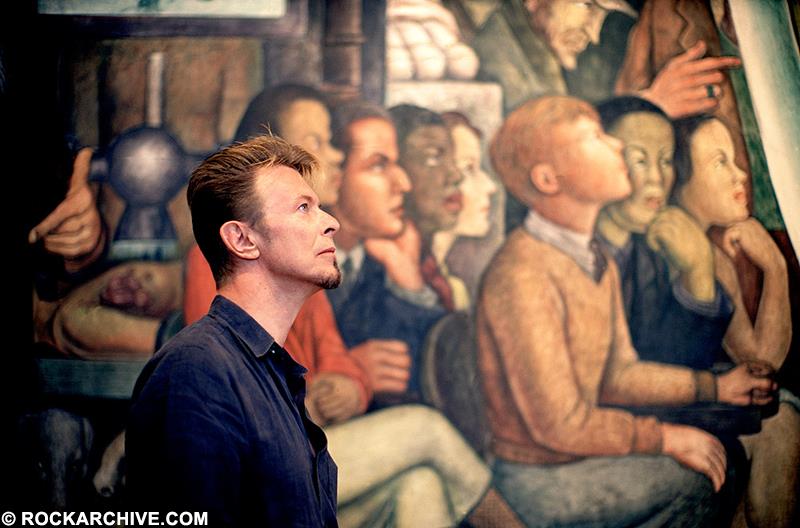 Photographer Fernando Aceves
Signed by Fernando Aceves and Limited Edition! Shipped Worldwide!
Before his Mexico City concert, David commissioned me to photograph him in front of various murals painted by 20th century Mexican artists, such as Rivera, Siqueiros and Orozco.
This was for an article he was writing for the magazine 'Modern Painters' - he is on the editorial board. During a visit to the 'Palacio de Bellas Artes', Bowie stopped to study this mural by Diego Rivera. Suddenly his figure seemed to merge into the painting and I was able to confirm why he is also known as 'The Chameleon.'
Location: Mexico City
Date: October, 1997
Edition: Rockarchive Edition 100
Print type: Giclée Print
Paper type: Archival 310gsm cotton based rag paper
Print type
We carefully select the best print-type to optimise each individual photograph. We have chosen to print this image as a giclée fine art print produced in our London studio.
A giclée print is the most popular way of producing great quality collectable prints in the digital age. It is produced is by scanning an original negative. The image is then outputed onto the chosen paper using specialist inks to make a beautiful archival print.
Paper type
This giclée print will be produced on archival 310gsm cotton based rag paper. Photo Rag paper is the most popular choices amongst professional printers as it produces high quality fine art prints with excellent clarity and depth.
'A series' print paper sizes
Our prints are available in a variety of sizes. Please see below for specific measurements for the 'A series' of paper sizes.
A3 (11.7" x 16.5" inches) (29.7 cm x 42.0 cm)
A2 (16.5" x 23.4" inches) (42.0 cm x 59.4 cm)
A1 (23.4" x 33.1" inches) (59.4 cm x 84.1 cm)
A0 (33.1" x 46.8" inches) (84.1 cm x 118.9 cm)
Please note all our sizes refer to the paper size of the print produced not the image size
Delivery
Delivery charges are added during the checkout process and calculated on a 'by country' basis.
United Kingdom - £10
International Shipping - £25
We aim to dispatch all our prints as soon as possible. If we have the requested print in stock we will arrange to post within a few days. However, in some cases we may require a photographer to sign or send us a print, it will take a little longer to be delivered. In these instances we will notify the customer of when they are likely to receive a print.
It you have any queries regarding delivery charges or need a print delivered by a specific date, please let us know and we will do our best to sort this out.
Shipping times are currently somewhat unpredictable due to pandemic circumstances.
Framing
For framing enquiries contact [email protected]
This Item is Shipped from the United Kingdom, due to new Brexit rules you may have additional customs fees to pay if you order from the EU, we are not liable for covering these import charges.