David Bowie- London, 1969 'Signed + Limited Edition Print'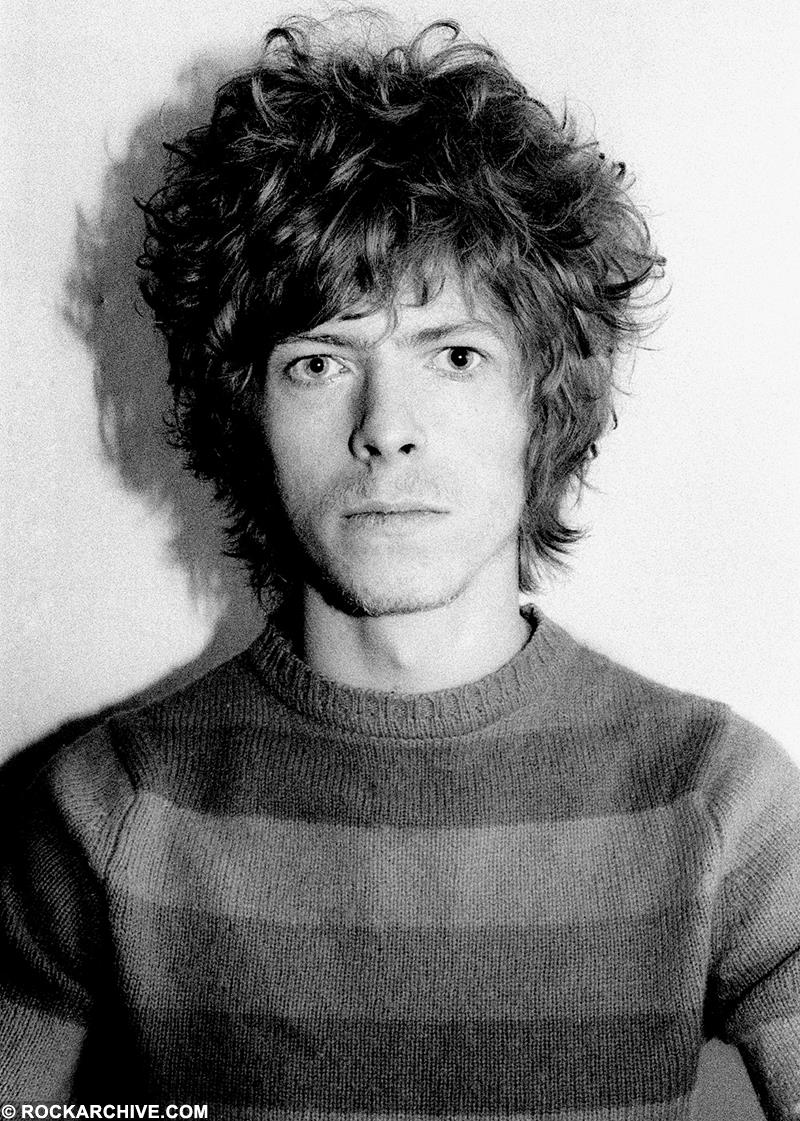 Photographer Ray Stevenson
Signed by Ray Stevenson and Limited Edition! Shipped Worldwide!
David Bowie at his flat in Beckenham in 1969. This photograph was used as the cover to 'Lover To The Dawn', a 10-song acoustic demo tape recorded by David and his Feathers partner John "Hutch" Hutchinson. In addition to the 'Space Oddity' demo, the tape features early versions of 'Janine', 'An Occasional Dream', 'Conversation Piece', 'Letter To Hermione' (here called 'I'm Not Quite'), and 'Cygnet Committee' (with very different lyrics and called 'Lover To The Dawn'). There are also renditions of the Feathers staples 'When I'm Five', 'Ching-a-Ling', 'Love Song' and 'Life Is A Circus'.
It has been suggested that the demos were recorded on professional equipment at Mercury Records' headquarters in Knightsbridge, but this seems highly unlikely considering Bowie's apologies on the tape for the "very bad tape recorder and microphone" and for the noises coming from the piano teacher upstairs; the usual consensus is that the venue was his new flat in
Foxgrove Road
"Everyone looks so bad in their passport photos, so lets do a really bad one!" - David Bowie.
Location: Foxgrove Road, Beckenham
Date: April, 1969
Edition: Rockarchive Edition 100
Print type: Giclée Print
Paper type: Archival 310gsm cotton based rag paper
Print type
We carefully select the best print-type to optimise each individual photograph. We have chosen to print this image as a giclée fine art print produced in our London studio.
A giclée print is the most popular way of producing great quality collectable prints in the digital age. It is produced is by scanning an original negative. The image is then outputed onto the chosen paper using specialist inks to make a beautiful archival print.
Paper type
This giclée print will be produced on archival 310gsm cotton based rag paper. Photo Rag paper is the most popular choices amongst professional printers as it produces high quality fine art prints with excellent clarity and depth.
'A series' print paper sizes
Our prints are available in a variety of sizes. Please see below for specific measurements for the 'A series' of paper sizes.
A3 (11.7" x 16.5" inches) (29.7 cm x 42.0 cm)
A2 (16.5" x 23.4" inches) (42.0 cm x 59.4 cm)
A1 (23.4" x 33.1" inches) (59.4 cm x 84.1 cm)
A0 (33.1" x 46.8" inches) (84.1 cm x 118.9 cm)
Please note all our sizes refer to the paper size of the print produced not the image size
Delivery
Delivery charges are added during the checkout process and calculated on a 'by country' basis.
United Kingdom - £10
International Shipping - £25
We aim to dispatch all our prints as soon as possible. If we have the requested print in stock we will arrange to post within a few days. However, in some cases we may require a photographer to sign or send us a print, it will take a little longer to be delivered. In these instances we will notify the customer of when they are likely to receive a print.
It you have any queries regarding delivery charges or need a print delivered by a specific date, please let us know and we will do our best to sort this out.
Shipping times are currently somewhat unpredictable due to pandemic circumstances.
Framing
For framing enquiries contact [email protected]
This Item is Shipped from the United Kingdom, due to new Brexit rules you may have additional customs fees to pay if you order from the EU, we are not liable for covering these import charges.