'Ziggy Stardust' Golden Mask & Bolt Sculpture Set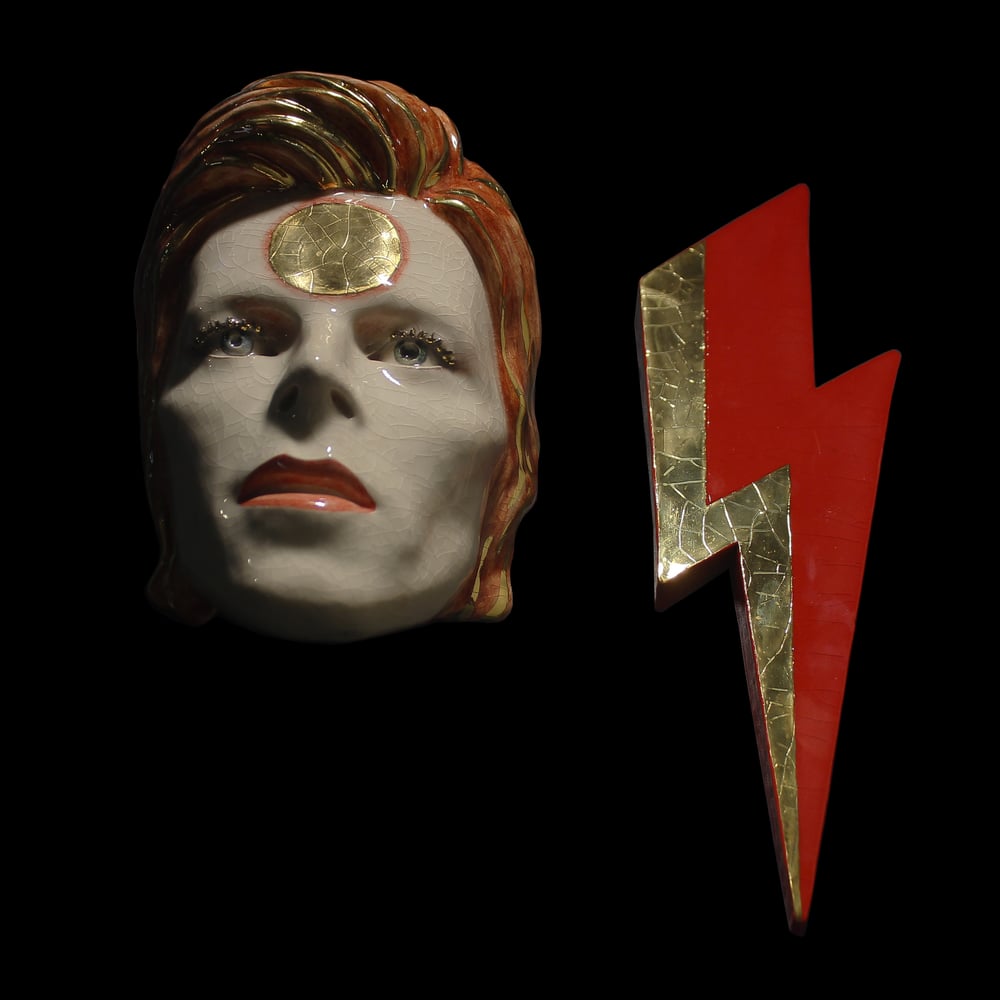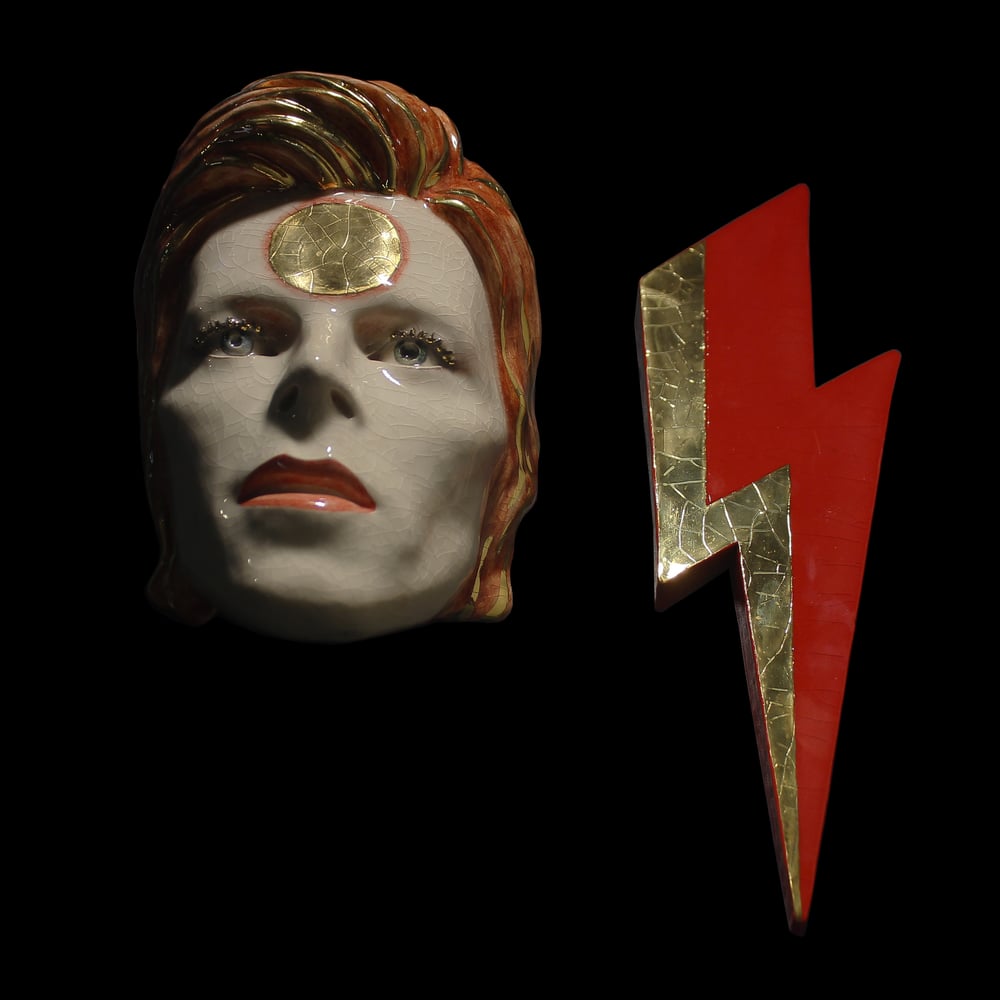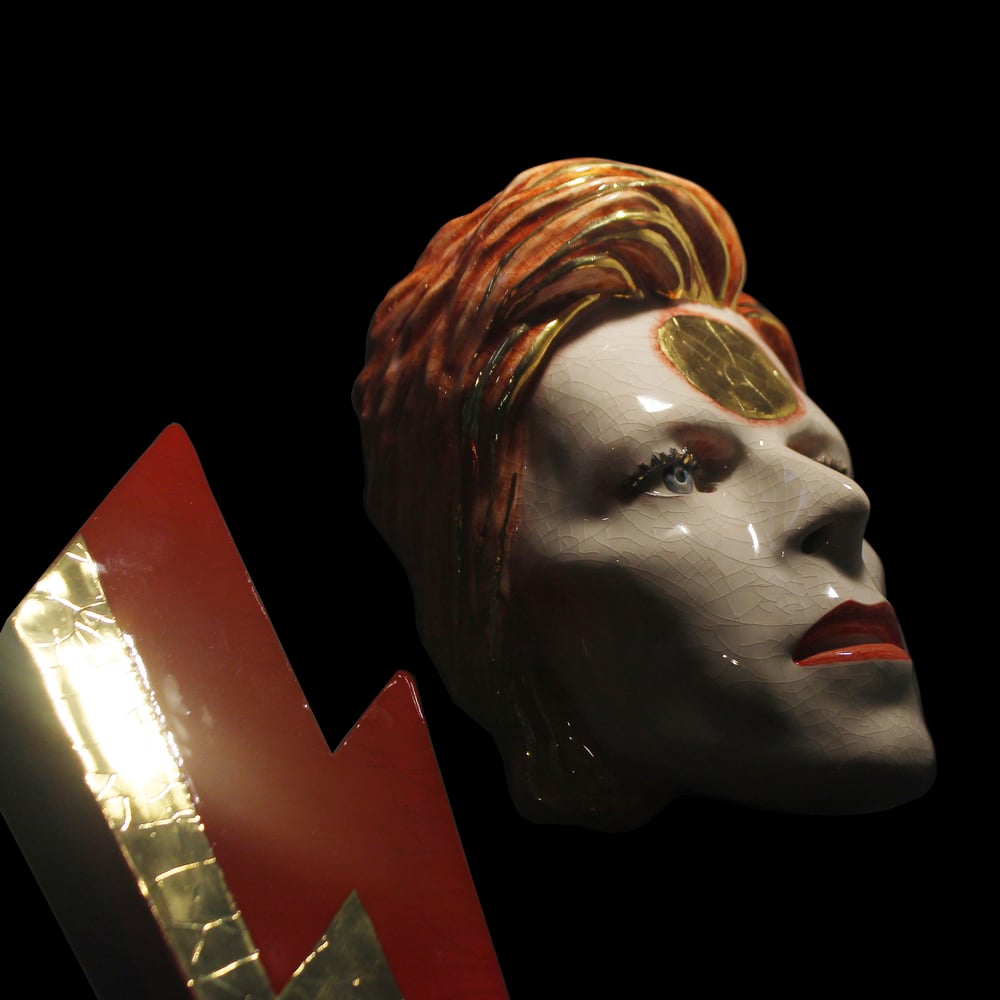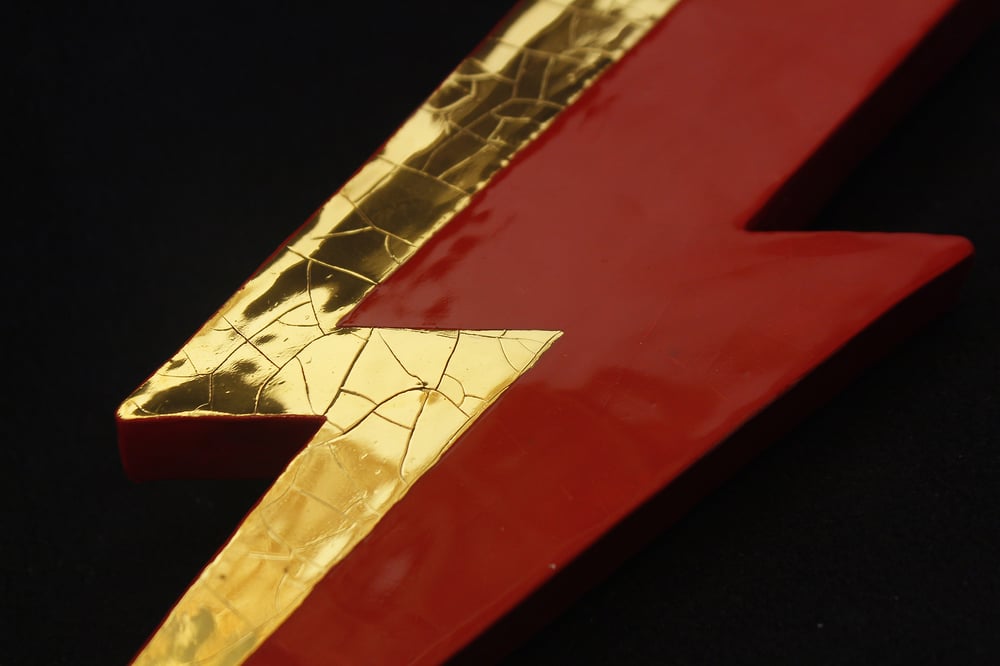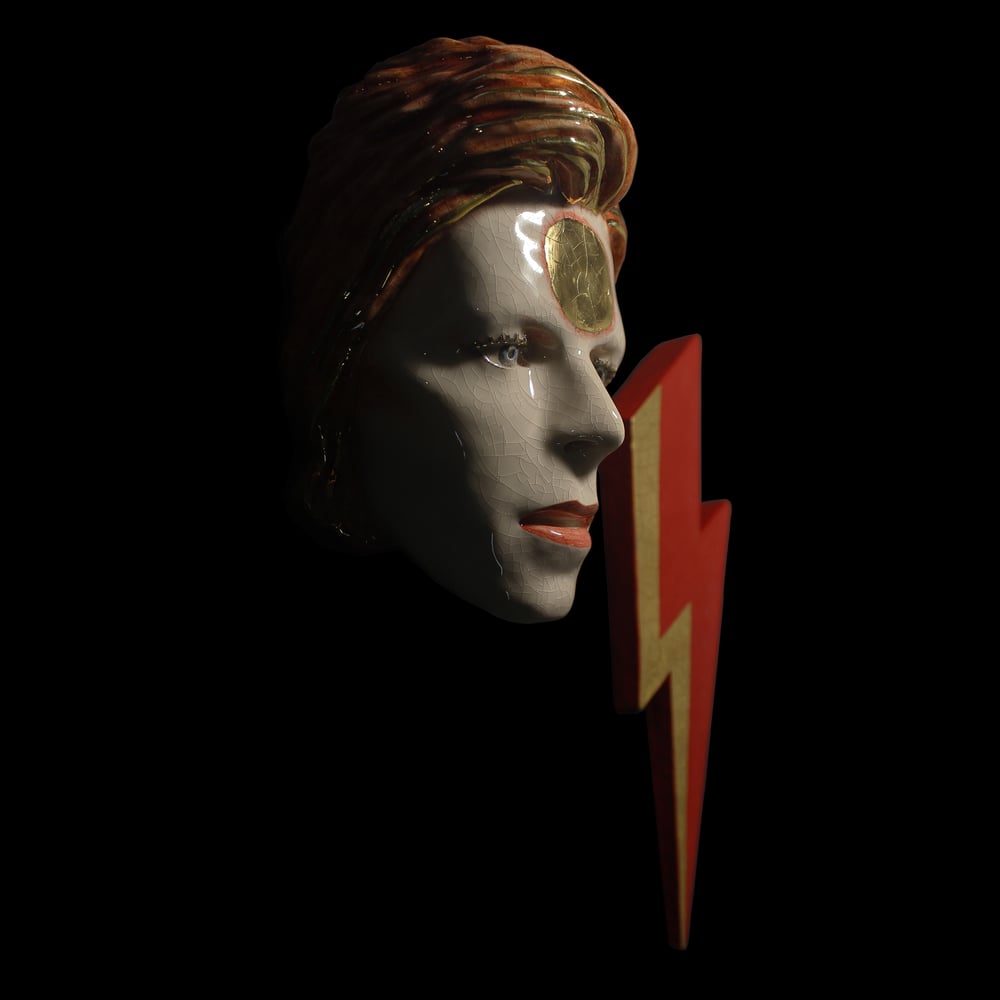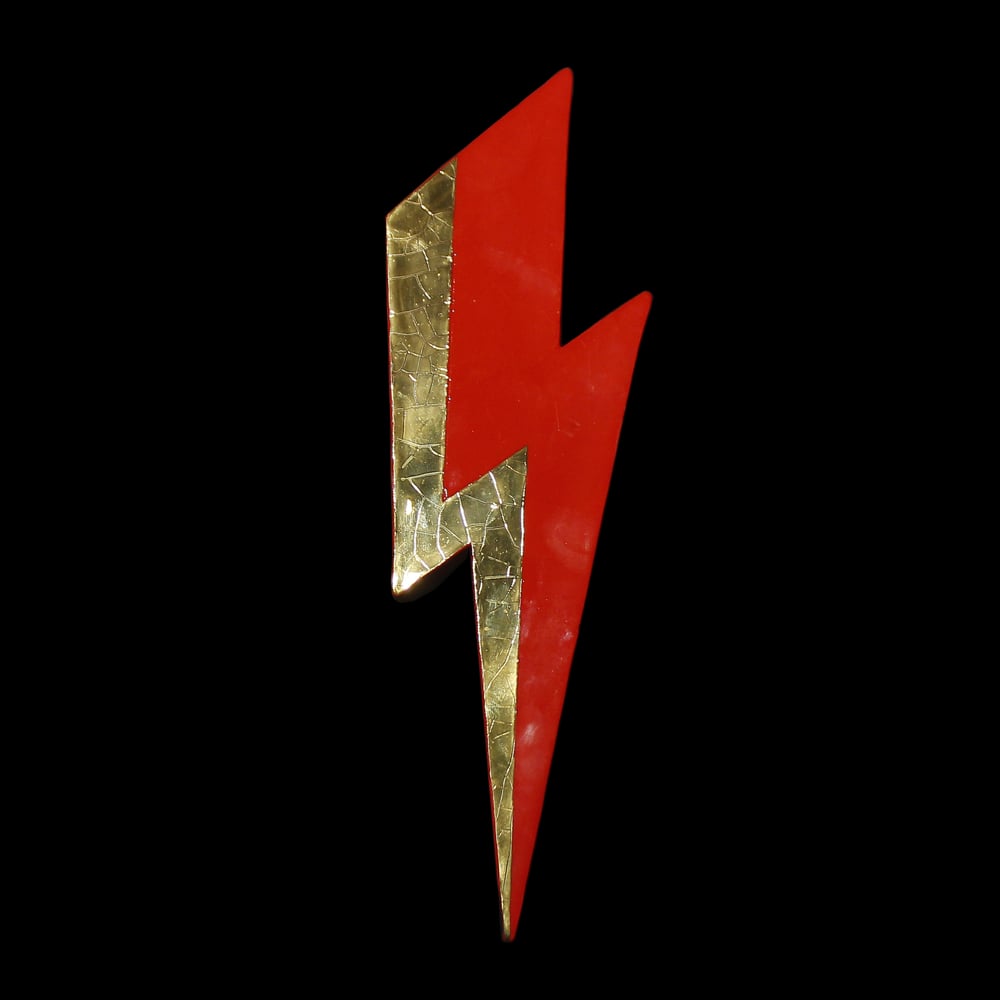 This is Mask and Lightning Bolt set has been designed and sculpted to be displayed side by side by artist Maria Primolan @mariaprimolansculptor
ZIGGY MASK -
Sculpture inspired by David Bowie's Ziggy photoshoot by Masayoshi Sukita, 1973
This sculpture is made from glazed ceramic, after a third fire metallic Real Gold luster has been applied to make the Gold spot, and some lines and points on the hair and eyelids.
Dimensions - H 22 x W 14.5 x D 10 cm
Weight - 1kg
ZIGGY BOLT-
This is an exclusive Collaboration between Maria Primolan and BowieGallery.com, we have added some unique techniques and colours to each and every Bolt we have designed.
This Lightning Bolt Sculpture is called 'Ziggy' using a bright Red paint and raku cracks on the surface of the bolt, it pairs up very well with our golden Ziggy face sculpture.
Real Gold Luster paint has been added to the left side of the bolt, the contrast between the shimmering gold and bright red really makes this piece unique.
Hook Included -Ready to hang on the wall.
If you wish to purhase a stand to display this sculpture there is a seperate listing.
Dimensions - H 32 x W 10 x D 3 cm
Weight - 0.5kg
If sold we can custom make another so just get in contact with us!
Pre-order for a Deposit of just £50! Contact louis@bowiegallery.com
Secure your Sculpture here -
www.bowiegallery.com/product/maria-primolan-sculpture-deposit
Included- Metal hook to display on the wall (no metal bar and base)
Each Sculpture has a wooden box, bubble wrap/polystyrene and is carefully packed to send Worldwide by courier.
The Sculpture includes a certificate signed by the artist. Some sculptures have a certificate signed from Italian Ministry of Cultural Heritage and Export Office.
WORLDWIDE SHIPPING! Insured with Full Tracking information and updates including images of the item packed ready for shipment!
Shipping Costs-
Italy- £20
Europe- £50
United States - £70
Rest Of World- £80
Perfect Gift for any David Bowie Fan!
If you have any questions about possible customs charges feel free to email - louis@bowiegallery.com
LIMITED OFFER - Receive £10 Back!
Since leaving the EU all UK orders are subject to Duty charges, if these are applied to your Sculpture send me an email and I will pay £10 of your fee.
DM @davidbowiereal on Instagram or use the 'Contact' page for more information!